HECKLER & KOCH
GREAT CONDITION. IN DEVELOPMENT FOR MORE THAN FOUR YEARS, THE VP9 IS HECKLER & KOCH'S LATEST HANDGUN AND THE FIRST STRIKER FIRED HK SINCE THE RENOWNED P7 SERIES PISTOLS WERE INTRODUCED IN THE 1980S. EXPERIENCE GAINED BY HK ENGINEERS WITH THE RECENT P30 PISTOL HAD A DIRECT INFLUENCE ON THE DESIGN OF THE VP9, BUT THE VP9 BREAKS NEW GROUND WITH ITS INTEGRATION OF A UNIQUE STRIKER FIRING SYSTEM WITH AN ENHANCED HK "LIGHT PULL" TRIGGER. THE NET RESULT IS TRIGGER QUALITY UNEQUALED IN ANY PRODUCTION STRIKER FIRED HANDGUN. COMES WITH BOX.
(read more...)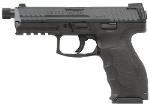 "HK's VP9 Tactical features a threaded barrel that is manufactured using a cold-hammer forging process. The hammer forged barrel made from proprietary cannon grade steel.Its polygonal bore profile, with no traditional lands-and-grooves rifling, contributes to longer service life as well as a slight increase in muzzle velocity. The trigger has a short, light take-up with a solid, single action type break followed by a short positive reset. The VP uses HK s ergonomic handgun grip design that includes three changeable backstraps and six side panels accommodating all hand sizes. A unique VP feature is HK s patented charging supports simple components that are mounted on each side of the rear of the slide and provide better gripping leverage for racking the slide rearward. This pistol has an extended Picatinny MIL-STD-1913 rail molded into its polymer frame for mounting lights and accessories. It ships with three 15 round magazines.
| | |
| --- | --- |
| Type: | Pistol |
| Action: | Single/Double |
| Caliber: | 9mm |
| Barrel Length: | 4.7"" |
| Capacity: | 15+1 |
| Safety: | Firing Pin/Trigger |
| Grips: | Black Interchangeable Backstrap |
| Sight Configuration: | Tritium Night |
| Weight: | 26.87 oz |
| Frame Finish: | Black |
| Frame Material: | Polymer |
| Barrel Type: | Threaded |
| Slide Description: | Black |
| Sight Style: | Night |
| Barrel Length Range: | 4.00"" to 4.99"" |
| Weight Range: | 16.00 oz to 31.99 oz |
"
(read more...)