AMERICAN TACTICAL INC (ATI)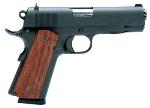 Military style front and rear sights. Manual safety. Single action. Mahogany grips. Overall length 7.84 inches. Weight: 38.4 ounces.
(read more...)
Metal reinforced polymer upper receiver and the Omni Hybrid metal reinforced polymer lower receiver. Lower features a hammer and trigger pin retainment system. P4 model features a Nano Composite Parts Kit. This kit includes the hammer, trigger, disconnector, takedown pins, safety selector, magazine release and detents all made form nano composite material. Black nitride treated barrel. KeyMod free float rail. Low Profile gas block. Standard AR pistol buffer tube compatible with most braces. Includes 30-round magazine.
(read more...)